Want to take your bike on an interstate jaunt? Stephen Huntley examines the latest airline fees and restrictions.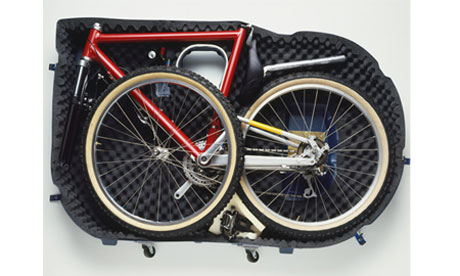 When considering taking a bike along on an interstate flight, the prospect of extra charges, complicated packing and potential damage can be enough to put even a hardy traveller off. But with a little bit of planning it needn't be an overwhelming, or expensive, option.
Airline charges
As a means of comparison, we considered a typical situation of a few days away on a no-frills return flight, allowing for a boxed bike weight of 15kg, and 15kg of luggage (including hand-held and checked-in combined). Your bike and luggage may not fit that limit; make sure you weigh all your carry-on and checked-in luggage before you travel. The simplest method is to stand on a set of scales and weigh yourself, then lift up a luggage item and note the new weight. The difference between the two figures is the weight of the luggage.
Each carrier has its own rules and pricing structure, which can change with little notice, so confirm the latest charges before purchasing a ticket. Charges indicated below are based on early July 2011 prices.
Jestar has a 10kg carry-on luggage allowance. If purchased at the time of booking, 20kg of checked-in luggage will cost an additional $23 long haul ($18 short haul), while 30kg costs $35 ($30).
Our extra cost: $46 (10kg hand-held, 20kg checked-in, $23 each way).
Qantas has a 7kg carry-on luggage allowance for one larger-size bag, although you can have two smaller bags, each of which can weigh 7kg; see their site for dimensions. You get one checked-in 23kg item of luggage for no extra cost, but it can't be divided into two separate pieces. You'll have to pack your extra gear into the bike box to make up the 23kg, or buy an extra 23kg bag allowance at a cost of $20 (must be booked in advance).
Our extra cost: $0/$40 (7kg hand-held, 23kg checked-in bike box with your gear packed inside. Otherwise, 23kg extra bag allowance at $20 each way).
Rex has a7kg carry-on luggage allowance and a 15kg checked-in allowance. There is a charge of $5.50 for every kilo above that
weight.
Our extra cost: $88 (7kg hand-held, 15kg checked-in, 8kg extra, $44 each way).
Skywest has a7kg carry-on and 20kg checked-in allowance. To carry a bike they charge an additional flat rate of $20.
Our extra cost: $40 (7kg hand-held, 20kg checked-in, bike charge, $20 each way).
Tiger outraged many last year when it doubled its fee for carrying bikes, from $30 to $60. It has a 10kg carry-on allowance (two items, neither exceeding 7kg). For checked-in luggage booked and prepaid online, they charge $15 for 15kg and $17.50 for 20kg.
Our extra cost:  $150 (10kg hand-held, 15kg checked-in, bike fee, $75 each way).
Virgin Australia (Virgin Blue) used to be very bike-friendly, but it is not so much now. Virgin has a 7kg carry-on allowance. If booked prior to arriving at the airport, 23kg of checked-in luggage costs $12. Anything above this weight is very expensive ($15 per kilo).
Our cost: $24 (7kg hand-held, 23kg checked-in, $12 each way), but look out if you go over.
Boxing your bike
All airlines require your bike to be boxed. You can normally scrounge a cardboard bike box from your bike shop, and for a fee, they may also pack it for you.
The standard way of packing is to remove the front wheel and pedals, drop the seat post down (or remove it), loosen the handlebar and turn it parallel to the frame, and take some of the air pressure out of the tyres.
You then have to fit it all in, and add padding to vulnerable parts. A spacer to go between the front forks is a good idea (ask your bike shop for one) and pad the bottom of the forks.
The rear derailleur hanger is vulnerable. Before disassembly, shift it on to the gear closest to the wheel (your easiest gear). Protect it with cloth, or bubble wrap. Consider using bubble wrap or foam pipe lagging on other vulnerable parts of your frame.
Your chainrings (front sprockets) may cut through the cardboard: cover their underside in padding strips while securing the pedal crank arms in a horizontal direction.
Use cable ties (toe straps are an excellent, reusable and less damaging alternative; see your bike shop) to secure detached items to the frame, and use plenty of packing tape. And don't forget to pack tools for reassembly!
If you are travelling with your bike regularly, you may opt for a hard case. They can come with wheels, which helps for transport, and usually have built in padding. But they can cost hundreds of dollars, can add extra weight, and don't give much room for a lot of extras.
Another alternative is a soft bike bag. They are light and convenient, but offer reduced protection, so make sure you use plenty of padding.
Insurance
Airlines will pay up to $1,600 for damage to checked-in luggage, but damage must be reported within three days of landing. Supporting evidence is also required. Consider photographing/videoing your bike as it is packed, and to show any subsequent damage.
If the airline is unreasonable in what it offers, or the level of proof it wants, you have recourse to your state's small claims tribunal/court.
Additional domestic flight insurance can be relatively cheap (starting at about $12) but coverage per item damaged may be low (the $12 insurance offers $750 coverage per item of luggage). You may be able to boost the per-item limit for an additional fee.
Some premium credit cards may also offer free flight insurance if they're used to pay for the flight, but check their per-item limits and excess charge before you fly.
Ride On content is editorially independent, but is supported financially by members of Bicycle Network. If you enjoy our articles and want to support the future publication of high-quality content, please consider helping out by becoming a member.